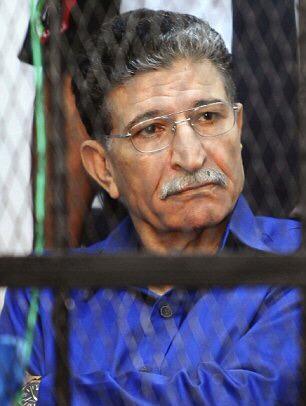 The trial of 32 Jamahiriya officials was postponed until May 20 at the request of the few defense attorneys that were present in the courtroom today.
Lawyers that had represented Dr. Dorda resigned following death threats. He has had no legal representation for over 38 months. He was granted a brief opportunity to speak in court.
(See:Urgent Appeal For The Life Of Dr. Abuzaid Dorda | LIC STATEMENT ON THE END OF TRIALS)
Alexandra Valiente
---
الاسد المناضل ابوزيد دوردة::مجمع الهضبة انتهاكا تاما لمفهوم العدالة
قال " محمد " نجل أبوزيد دوردة أحد ابرز قيادات نظام الجماهرية ورئيس جهاز الأمن الخارجي الليبي من خلال بيان صادر عن مركز ليبيا للمعلومات اوضح من خلاله ان محامي دورة سيقدم دفاعه يوم غدا الأحد الثالث من مايو، ويرجح ان تغلق القضية المرفوعة ضده رفقة ستة وثلاثين مدعي عليه اخر مرتبط بنظام الجماهرية.
وأشار البيان الي أنه وعلي مدي السنتين الماضيتين شهد مجمع الهضبة فى طرابلس انتهاكا تاما لمفهوم العدالة وتدير هذا المجمع مليشيات ترفض سلطة الحكومة المنتخبة ، ولقد أطلقت النار على المحامين وهددوا وأجبروا على المخاطرة بحياتهم بالسفر إلي منطقة حرب لمقابلة وكلائهم، أما الذين يتعذر عليهم السفر، فيغرمون أو يستبدلون فجأة، إن عدد المدعي عليهم الإجمالي غير واضح، فبعضهم توفوا وبعضهم لايمثلون أمام المحكمة ببساطة.
وبحسب البيان فقد أشار المدعي عليهم إلي أن المليشيات أساءت معاملتهم وأنهم منعوا من التواصل مع محاميهم واستجوبوا في ظروف قسرية وأرغموا على التوقيع على افادات كاذبة وحرموا من العلاج الطبي الأساسي, ويبقي الضوء فى نهاية النفق احتمال تلقي عقوبة الإعدام عندما يتوصل القضاة الي قرارهم.
وأفاد البيان ان دائرة الإستئناف التابعة للمحكمة الجنائية الدولية قالت بأن المحاكمة العادلة هي السبيل الوحيد لتحقيق العدالة، وإذا إستحالت إقامة محاكمة عادلة تكون الغاية من الإجراء القضائي قد انتفت ويصبح وقفه أمرا لا مناص منه، وينبغي ان تطبق هذه المقولة القانونية بالتساوي على جميع المحتجزين والمدعي عليهم فى الدول التى تمر بمرحلة انتقالية انتقالية مثل ليبيا، ولا يمكن الاعتراض على ان المعاملة الحالية للمحتجزين في ليبيا خالية من العدالة.
واستشهد البيان بإفادة قالها وزير العدل الليبي " ان النظام القضائي قد انهار، ونفي مسؤوليته كليا عن المحاكمة الإستعراضية التى تجري حاليا فى طرابلس، وصرح ان أيه إجراءات قضائية تتم خارج سلطة الحكومة غير قانونية ", ويتحدث نجل دوردة من خلال البيان انه ينبغي ان تكون هذه النقطة جلية، فكيف يمكن تطبيق سيادة القانون فى منطقة تخلت عن الألتزام بقواعد الحكومة ؟ كيف يمكن للقضاة ان يصدروا حكما عادلا ونزيها وهم محاطون بقطاع طرق يحملون الكلاشينكوف، وانه ومن الخطأ محاجاة ان العدالة المعيبة خير من اللاعدالة، إلا أن العدالة المعيبة تعني لا عدالة على الاطلاق.
وبيّن انه لا يمكن الإستهانة بإنتهاكات حقوق المدعي عليهم، إن الإحتجاز التعسفي جريمة وان عدم حماية أسري الحرب بمنحهم محاكمة عادلة لجريمة، وإن إستخراج وإستخدام الأدلة التى يحصل عليها بالمعاملة القاسية واللاإنسانية لجريمة وان هناك الاف الضحايا في ليبيا تحق لهم العدالة، إلا انه اليوم، هولاء الضحايا يشملون عديد المحتجزين الذين وقعوا ضحايا سوء المعاملة أثناء الإحتجاز والنظام القضائي المعيب وينبغي اطلاق سراحهم وفقا لما توجبه حقوقهم.