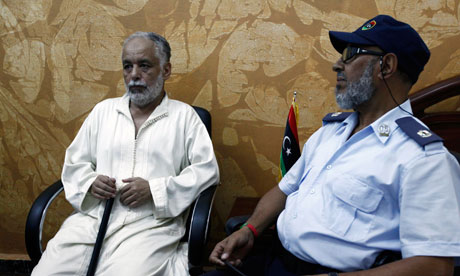 According to Marcel Ceccaldi, the lawyer currently representing al-Baghadi al-Mahmoudi,  his client has been brutally beaten.
70 year old al-Mahmoudi appeared frail when he arrived in Libya on June 24th following  his illegal extradition from Tunisia.
He was taken to the detention facility at the Mitiga military airport where he was then tortured.
He is currently hospitalized under guard.  He has broken ribs and is hemorrhaging from a punctured lung.  There are unconfirmed reports that he is in a  coma.
This is extraordinarily sad news.
In Violation Of International Law, Tunisia Extradites Baghdadi Al-Mahmoudi To Libya
Statement Of The Libyan People's National Movement On The Criminal Extradition Of al-Baghdadi al-Mahmoudi
Extradition To Libya = Extradition To Torture
~Alexandra